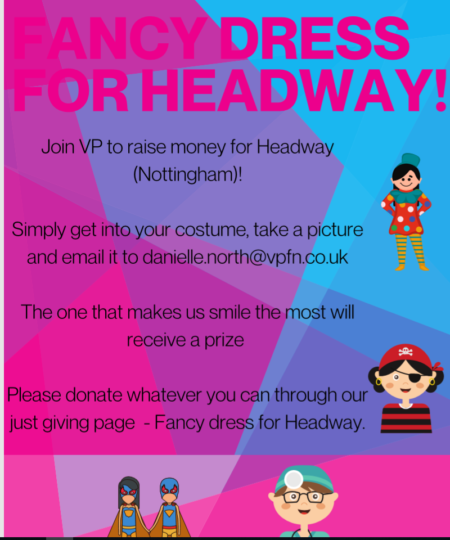 VP Forensic Fancy Dress for Headway
14th May 2020
Help VP Forensic raise money for Headway Nottingham!
Unfortunately, due to government cutbacks, Headway Nottingham need to raise £53,000 by May 2020 to keep running for another year!
Therefore, VP Forensic have set up a Fancy Dress for Headway event. This can include everyone and you can participate whilst in the safety of your own home. We would like you to help us to share positivity and cheer across our social media platforms. So, we are asking people to get involved by dressing up and taking a photo.
Don't have any fancy dress? If you would like to get involved by taking a fun / silly photo. Why not get creative and make an outfit? Get your children to do your hair or make up? or just pull a funny face and take a 'selfie'? The aim is to make others smile!
Submit your photos via email to Danielle.north@vpfn.co.uk
You can follow our progress and see some of the wonderful pictures submitted, by following us on social media and LinkedIn.
To talk to us about who we are and what we do, please visit our contact page on our website by clicking here
back to all news